Community Group Tuesdays 6-8:30PM
More than a Bible study, it's getting to know each other as a family,
studying, and sharing life together.
Discipleship in its original form, each group studies
the week's sermon, video curriculum, or a book of the Bible.
Warriors: Men's Coffee and Study
The third Saturday of the month from 9-11am, the men gather for coffee,
laughs, share life, and study a book of the Bible or book study.
We are planning a men's retreat in 2019 with our sister churches
First Church in Charlestown
and
TrueVine Church
The men meet in Pastor Don's office
Thrive: Women's Prayer and Study
The third Saturday morning of the month from 9-11am,
our women meet to pray, talk, and study together while also sharing life.
The women meet in the fellowship hall.
A women's day conference in the spring of 2019.
Kids Camp
Sunday mornings during our service, we have a children's ministry that
helps parents in discipling their children into disciple makers
and help become the future of our church.
Powered by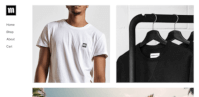 Create your own unique website with customizable templates.